The journey behind the art
28 April 2023
Here's a story you'll want to read all about: The Cafetto team were lucky enough to sit with Rosey Hill - Coffee Trainer and Head of Quality Control from D'Angelo Coffee. Rosey gave us a run-down on her (very impressive) journey in the coffee world. After she treated us to an espresso, that is. ☕
How do we describe Rosey? Vibrant, charismatic, full of energy…and makes a damn good coffee. We took no time to get to the hard-hitting questions, the first being a very, very important one - "What is your coffee of choice?" Being the coffee-nut she is, we certainly didn't get a one-word answer, but rather, "My favourite kind of coffee is one that hits on the nostalgic heart strings," said Rosey. "Years ago, I was introduced to a beautiful light, floral, filtered Kenyan coffee at a coffee show in Houston, and that for me was delicious. In my day-to-day life, I'm an espresso enthusiast." So what does Rosey's morning coffee routine entail? Two espresso shots in two different cups. "I don't like two shots in one cup, I insist on two separate cups, of course!" explained Rosey.
The 21 year coffee journey by Rosey
This year marks 21 years since I began my coffee journey. I have an Italian background, that means, we're social, we're all about people, and we love our coffee. It's in my blood, and the social aspect is what drew me in to begin with. I took some time off after having my first child, and when I decided to go back to work, my sister, who was managing a Cibo store at the time offered me a position. That's where it all began.
The milestones that paved thew way for my career
In 2016 I did my certification for Specialty Coffee Association of Europe (SCAE). I flew to Melbourne for a week of training. On this week, we were mentored by a group of Specialty Coffee Trainers, this group included Simon James, a trainer from Genovese coffee, and funnily enough. I noticed that I was the only female – talk about being nervous!
During the training, we were told there was a competition taking place that afternoon, I was excited. When I asked my trainer who would be competing, he turned to me and said "you." I could not believe it. This was the next step in my coffee journey!
Here's how the competition went: it started off with 15 minutes to calibrate the grinder and make espressos, followed by a latte art competition, and concluded with cupping. Each round, we were given a set of parameters and judged on quality of coffee against speed. By the end of the three rounds – I was awarded champion! And my prize was to go to Brazil.
Learnings from across the globe 🗺️
Before I could catch my breath, I was on my way to Brazil with the trainers and 10 of the most talented baristas from around the world (just your usual day). ✈️
In Brazil, we spent a lot of time on the coffee farms. One in particular was O'Coffee - quite a large farm, large production along with a variety of processes. One of my key learnings was all the different ways they harvest their coffee from selective picking, to stripping and mechanical. We then moved onto a different farm, smaller production, less technological advancement and more manual labour. The smaller farm reminded me of being home with my family. Particularly when we'd come together and put in what felt like an endless amount of hours' work to feed the people we love the most. Wholesome, to say the least. 👨🌾
From there, we went back to Sao Paolo where we were immersed in the world of specialty coffee - specifically filter brews. We spent a lot of time learning about unique approaches to coffee by analysing the differences in various types of beans. We took part in a Signature Beverage Competition. Mine was centred around fruity apricot flavours – this was an amazing experience.
The next stop was Rio. There, I was lucky enough to connect with a coffee broker, who spent time further educating me on coffee cupping.
This entire learning experience pushed me out of my comfort zone and gave me the tools I needed to take my passion for coffee to a new level. From theoretical to practical experience, an da whole lot of personal development, it gave me the confidence to challenge myself further and pursue a Q-Grade Certification.
Q-Grade Coffee Certification 📜
Let me just describe it in one word: INTENSE.
The Q-Grade is about quality control on green beans. This involves a week of predominantly sensory training. To be specific, 3 days of training and practice, followed by a very intense week of 19 exams. A lot of it is to do with different variations of acids, salt, sweet, bitterness and determining which variation category the coffee sample sits under. By the time you get to the end, your taste buds are fried! Cupping also takes on a whole new level in Q-Grade. For example - distinguishing the sourcing, grading the coffees and determining the taints within.
My biggest challenge was roast identification. Here's how it works: They give you 6 sets with 3 coffees. In each set it was our job to identify roast IDs – light, dark, baked and correct roast (each with different characteristics). In addition to, we also had to identify the odd cup. This was incredibly challenging.
What does this certification mean for Rosey?
I passed the exam, and to be honest, I'm still pinching myself. This certification can open many doors, but what I value the most is using my certification to help others.
After speaking with many trainers, I have realised they have helped farmers from around the world implement better coffee processes. That's one of the reasons why I love learning about coffee so much; having that knowledge on the processes that take place from bean to cup allows me to help other communities, especially those who don't have the resources to implement better processes themselves.
How has the world of coffee evolved since you last started vs. now? 🎢
Watching the coffee world evolve is like being on a roller coaster. In 2009, I opened a coffee shop with my sister on Tynte Street, North Adelaide. At the time, the period of the light roaster was booming, (hip and happening, if you will). It was this period where I learnt about the importance of believing in your product. While the world was following what was trendy at the time, I admired Tony D'Angelo (D'Angelo Coffee) for sticking to his belief in medium roasting.
What's mind-boggling is how much the science behind coffee has evolved. I remember when I first started working in a café, we were using grinders with 3 clicks (and we thought they were pretty cool!) Now, we make life easier for the barista if they run into trouble with the extraction, because the technological advancements give them more parameters. For example, the new tech equipment tells them about dose, temperature, water, etc.
Come to think of it, there's nothing that excites me more right now than new equipment! Having said that, I'm still an old-fashioned girl at heart that can appreciate simplicity. Throughout my experiences I've also learnt that if you're adding too many variables in a high-volume café, it tends to slow you down.
The Cafetto + D'Angelo relationship 🤝
A long-standing relationship of over 20 years that began when Cafetto hosted the Australian Barista Championships. The secret behind this relationship is the shared belief between D'Angelo Coffee and Cafetto in providing customers with the highest quality product and a high level of service.
Sharing the same values is what makes the two businesses compatible. At the end of the day, whether it's with quality coffee or specialty coffee machine cleaning products – the end goal is always to help others. The relationship between Cafetto and D'Angelo Coffee continues to strengthen even after 20+ years. We've watched the Cafetto brand grow, and look forward to many more years together.
Of course, she didn't let us leave without whipping up a brew!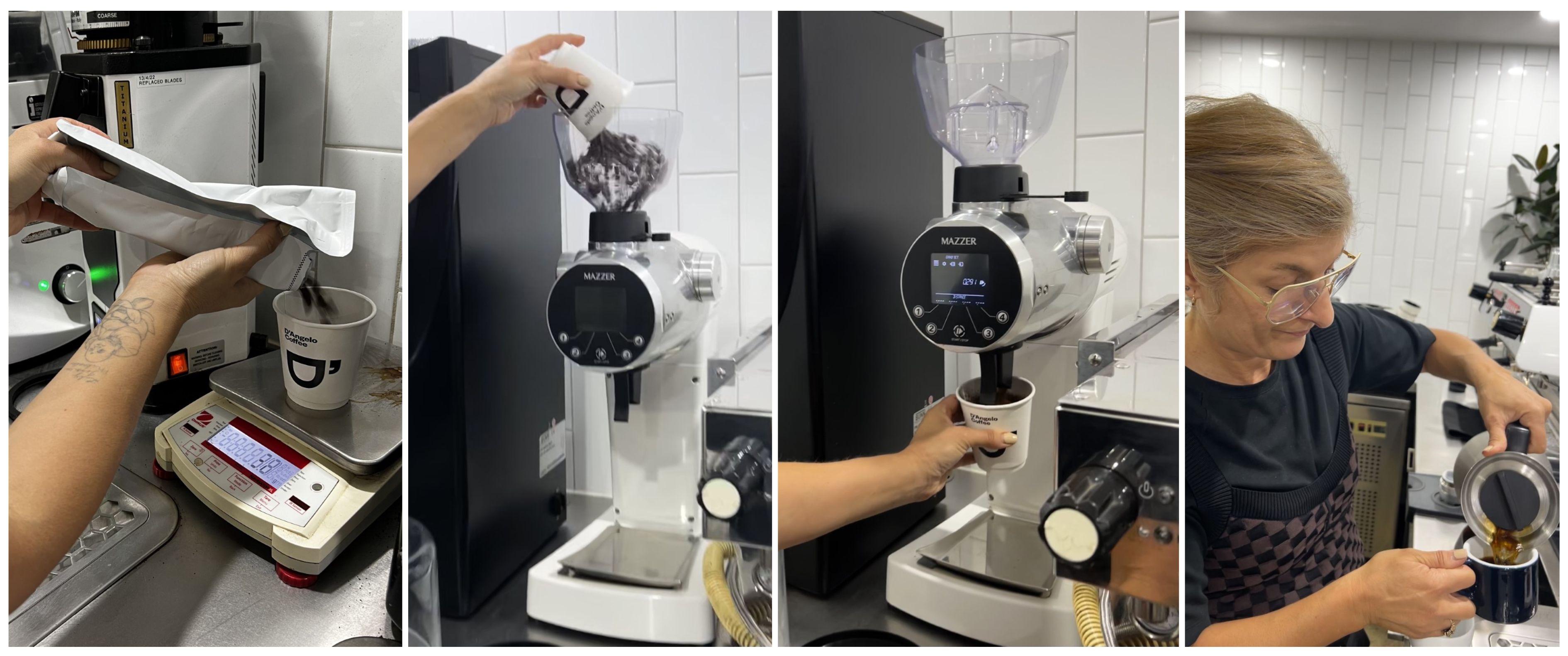 Thank you to Rosey and the team at D'Angelo coffee. 👏👏