13 September 2023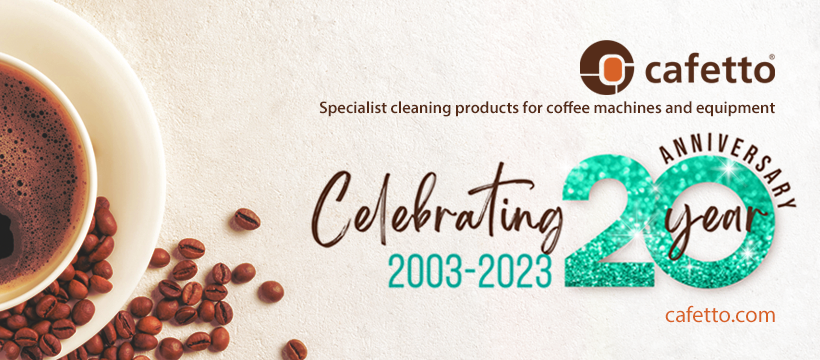 PRESS RELEASE
This year, Cafetto is celebrating the landmark anniversary of 20 years in business. Since Cafetto was established, the company has created a longstanding relationship with the global coffee industry. Cafetto's commitment to research and development has led to products that meet the highest quality and efficacy standards.
Cafetto's research and development team are consistently innovating and improving our product offerings to be at the forefront of the coffee cleaning industry, providing best-in-class products. We take pride in providing innovative cleaning solutions that address the new requirements of dynamic coffee practices and technology.
"The coffee industry is about hospitality and connections. This is what I value most when I travel to global coffee events and competitions. The people I've met and the experiences we have shared have given me friends and memories for life. This is what I think coffee and Cafetto are about."
In the last two decades, Cafetto has expanded distribution to more than 80 countries. We have built relationships of trust within the global coffee industry by creating the best cleaning solutions for our customers and through our support of the coffee community.
"Cafetto's 20th anniversary is a very proud moment for me. In the last 20 years, we have seen exciting growth and global expansion. But more important, I think, is that we really have a finger on the pulse of the industry resulting in the consistent evolution of our products, ideas, and values."
Christine Song, General Manager
Supporting the coffee industry is an integral part of the Cafetto brand and its values. The Cafetto team will be at HOST Milano in October 2023 which is a wonderful opportunity for us to mark this 20-year milestone and to showcase new additions to our suite of organic products. We look forward to celebrating with our friends in the industry!
At Cafetto, we are passionate about great chemistry, great quality, and of course, great coffee!
Download Cafetto Celebrates 20 Years Press Release

Further information for the press:

Christine Song, General Manager
christine.song@cafetto.com

Amber Williams, Marketing Manager
amber.danz@cafetto.com